Somewhere between lunch and dinner lies afternoon tea, a centuries-old tradition that, with a dash of luxury, is a blissful way to pass the time
The tradition of taking afternoon tea was made fashionable in 19th century England when aristocrats gathered to sip blends from fine china crockery and indulge in sumptuous cakes, pastries and breads. Although the custom was first introduced to the royal court by Catherine of Braganza, wife of King Charles II during the 1660s, it was only in the 1830s that the practice came to be seen as a new form of society soirée.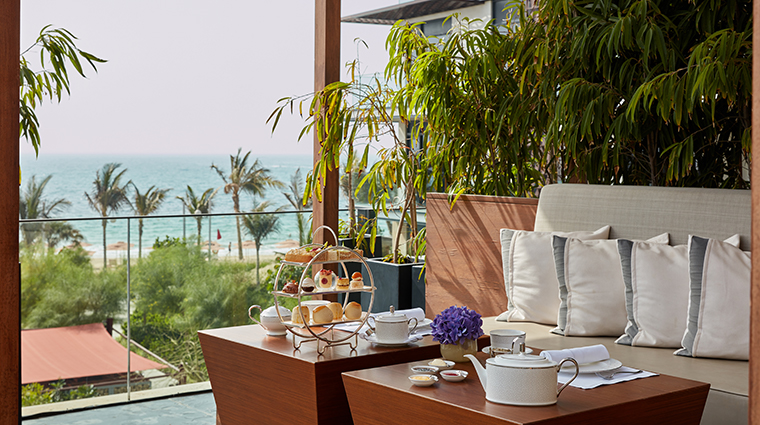 Anna Maria Russell, the 19th-century Duchess of Bedford, requested that light sandwiches be brought to her room in the afternoons to stave off hunger pangs, as the evening meal wasn't usually served until 8.30pm. The duchess invited others in her inner circle to join her and the convivial custom caught on, giving birth to a timely tea tradition that has been passed down through the years.
Traditionally consisting of tea with sandwiches, scones and pastries, the concept has been developed to include the finest ingredients and has become an occasion in its own right. The UAE, with its penchant for luxury, has pinned this special tea service down to a fine art with an offering to suit any occasion and taste. From themed menus to decadent touches with bubbles, Concierge savours the best afternoon teas in town.
Karat, Address Dubai Mall

Karat is proudly championing what it calls the Era of Confectionary with a decadent afternoon tea offering of cakes and cookies, complemented by a range of premium loose-leaf teas, speciality coffees, freshly-made juices and healthy smoothies.

Set in the relaxed yet luxurious surroundings of the lobby lounge, time seems to stand still while sipping a delicate brew at this plush venue, which is ironically only a few minutes away from the buzz of the world's largest mall, The Dubai Mall.
Tuck into sumptuous sandwiches, served on a customary three-tiered stand, and work your way through sweet nibbles and freshly-baked scones, served with clotted cream and homemade jam.
Roman Lounge, Caesars Palace Bluewaters Dubai

Inspired by the flavours of the Roman Empire and Julius Caesar's conquests through high seas and unchartered territories, Caesar's Palace Bluewaters Dubai has launched its Imperial Afternoon Tea. Blending exotic tastes from east and west, these sweet and savoury treats are served with premium teas from around the world.
The mouth-watering delights include savoury finger sandwiches crafted with artisan bread. Try the decadent brie de Meaux, complemented by a sweet tangy fig compote and nutty hazelnut crumb. The innovative baba ghanoush sandwich, made with smokey wood-fired aubergine, Arabic bread, pickled carrot, cucumber, sesame seeds and pomegranate seeds, is truly a winner.
Those with a sweet tooth can enjoy the afternoon tea staple – freshly baked scones with fresh cream. But for something more exotic, try the coconut and mango sphere, an African cacao chocolate sphere with a sweet mango centre, encased in light coconut cream dacquoise.
The Lotus Lounge, Anantara The Palm Dubai Resort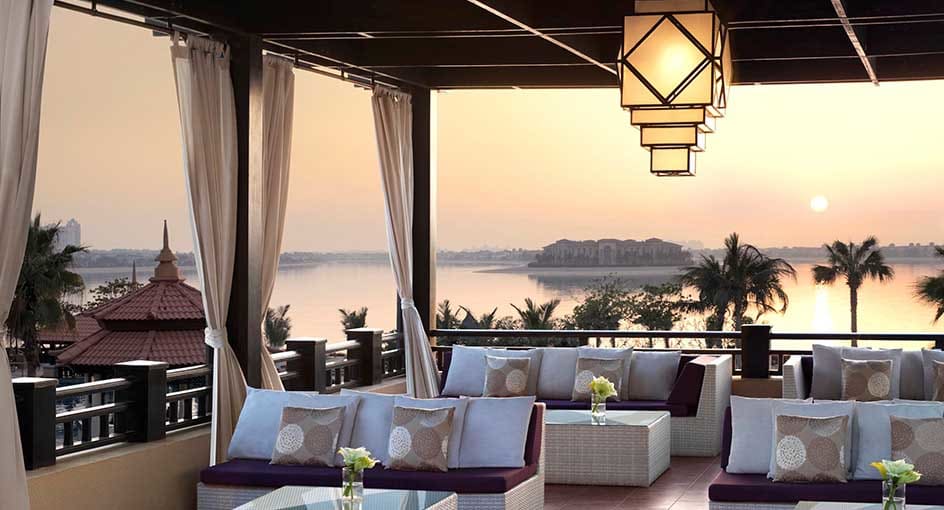 This relaxed afternoon tea venue boasts one of the best sunset locations in the city. With views out to the ocean and across Palm Jumeirah, The Lotus Lounge has all the feels of a laidback afternoon, away from the hustle and bustle of Dubai.
With a wide range of aromatic teas and coffees, there are flavours for all tastes, from traditional classics such as clotted cream scones and macaroons. The delicious finger sandwiches include prawn togarashi on pumpernickel bread as well as beef bresaola and manchego cheese on brioche, but the barbecue pulled chicken served on a sundried tomato roll is a real highlight.
Peacock Alley, Waldorf Astoria, Dubai Palm Jumeirah
Inspired by the original Peacock Alley at the Waldorf Astoria New York, the Dubai outpost brings an indulgent afternoon tea experience to this sleek venue on Palm Jumeirah. In the month of March, Peacock Alley welcomes spring in true Dubai fashion with the Sakura Afternoon Tea, bringing cherry blossom- inspired delights and Japanese accents to the experience.
Guests can savour the colours and scents of Japan in spring with a range of floral teas or a glass of rosé whilst listening to the relaxing melodies of the resident pianist. Start with the selection of savoury sandwiches – cucumber on brown bread, spinach bread with prawn, and charcoal bread with smoked salmon.
Adding a Japanese twist to classic scones, these treats are flavoured with matcha and served with clotted cream, lemon curd and strawberry jam. And finally, delight in a range of sweets, from macaroons to mochi.

Tags :
AddressDubaiMall
AnantaraThePalm
CaesarsPalace
Waldorf Astoria Dubai Palm Jumeirah